I attended the Gramophone Classical Music Awards 2023 this evening, at the Connaught Hotel in Covent Garden, where I hosted a table on behalf of the MU. This is the first time the Union has sponsored an award at the event and the whole night was extremely enjoyable and a great tribute to the genre over the last twelve months.
Our table welcomed the following MU Officials and guests: Jessica Craig, Hilary Skewes, Colin Sheen, Becky Dell, Ash Mukherjee, Nigel Charman, Louise Braithwaite, Jamie Pullman and Morris Stemp. Meanwhile, MU Orchestral Organiser Jo Laverty joined Peter Leathem and PPL on a neighbouring table.
James Jolly, Gramophone's Editor-in-Chief and host for the evening, received a standing ovation as he revealed that after 25 years, this would be the last time he presents and leads the event.
He said: "In Gramophone's centenary year, it's reassuring that none of the dynamism and sense of adventure that persuaded Compton Mackenzie to launch the magazine has been lost. Great artists, great music and loads of imagination are once again on display. The 2023 vintage is a fine barometer of everything that's inspiring about the classical music world, and specifically the classical record industry."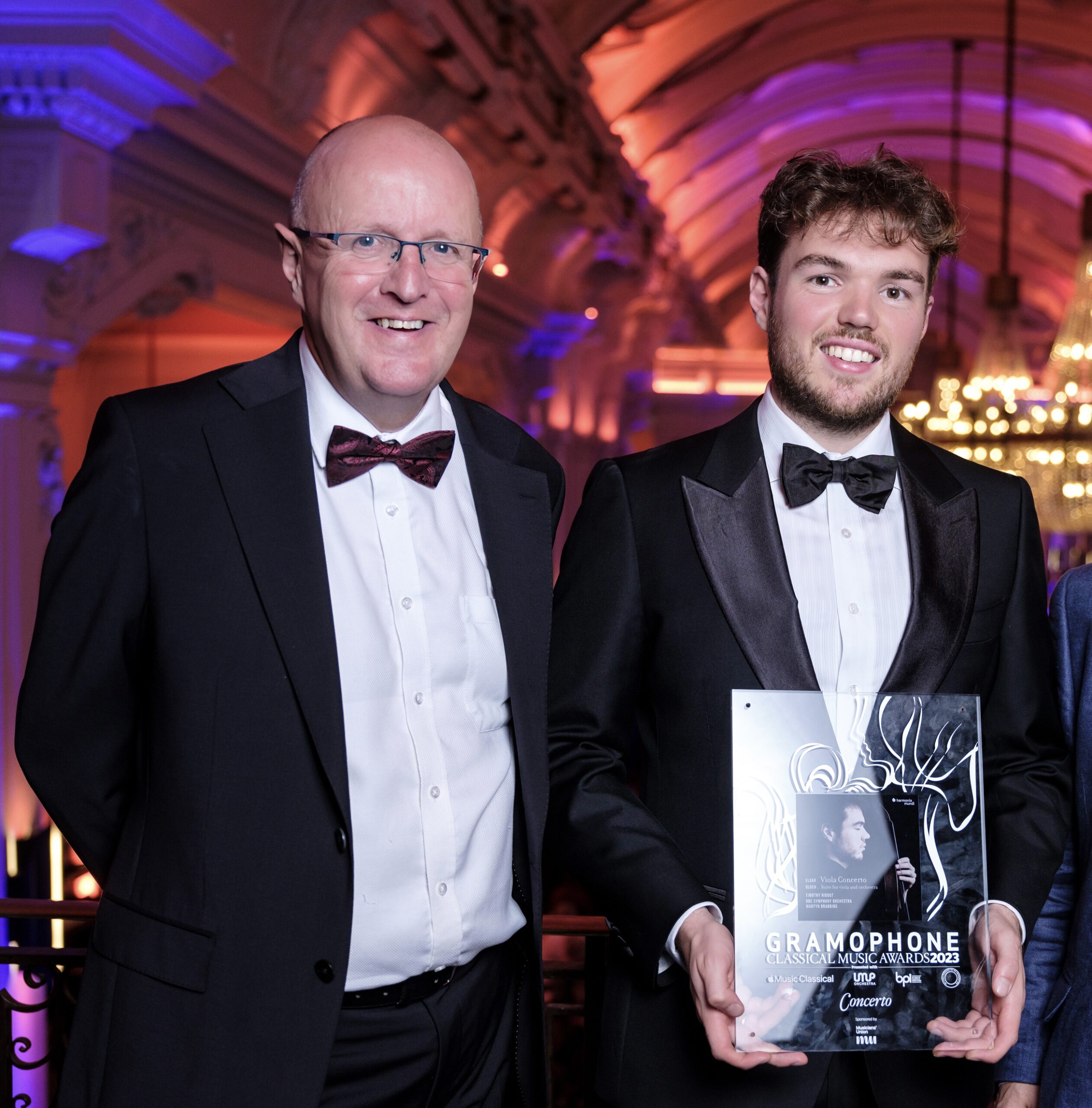 Photo (by Colin Miller): KA and Timothy Ridout, winner of the MU sponsored Concerto Award 
Full list of winners:
Special Awards
RECORDING OF THE YEAR
Nielsen Symphonies Nos 4 & 5
Danish National Symphony Orchestra / Fabio Luisi (Deutsche Grammophon)
LIFETIME ACHIEVEMENT (sponsored by the Global Foundation for the Performing Arts)
Dame Felicity Lott
ARTIST OF THE YEAR (sponsored by Raymond Weil)
Véronique Gens
YOUNG ARTIST OF THE YEAR (sponsored by Classic FM)
Stella Chen
ORCHESTRA OF THE YEAR (in association with Apple Music)
The Deutsche Kammerphilharmonie Bremen
LABEL OF THE YEAR (sponsored by Stagecast)
BIS
CONCEPT ALBUM (in partnership with Nordoff & Robbins)
'Battle Cry: She Speaks'
Helen Charlston; Toby Carr (Delphian)
Category Awards
CHAMBER (sponsored by Wigmore Hall)
MOZART String Quintets, K515 & K516
Quatuor Ebène; Antoine Tamestit (Erato)
CHORAL
CAGE Choral Works
Latvian Radio Choir / Sigvards Klava (Ondine)
CONCERTO (sponsored by the Musicians' Union)
ELGAR 'Viola Concerto'
BLOCH Suite for Viola and Orchestra
Timothy Ridout; BBC Symphony Orchestra / Martyn Brabbins (Harmonia Mundi)
CONTEMPORARY (sponsored by PPL and PRS for Music)
LOTTA WENNÄKOSKI Sigla; Flounce; Sedecim
Sivan Magen; Finnish Radio Symphony Orchestra / Nicholas Collon (Ondine)
EARLY MUSIC
DASER Polyphonic Masses
Huelgas Ensemble / Paul Van Nevel (Deutsche Harmonia Mundi
INSTRUMENTAL
Bartók. Eötvös. Ligeti. Veress – Music for Solo Violin and Viola
Nurit Stark (BIS)
OPERA (sponsored by Mascarade Opera Foundation)
TIPPETT The Midsummer Marriage
Soloists; English National Opera Chorus; London Philharmonic Orchestra and Choir / Edward Gardner (LPO)
ORCHESTRAL (sponsored by Lark Music Insurance)
NIELSEN Symphonies Nos 4 & 5
Danish National Symphony Orchestra / Fabio Luisi (Deutsche Grammophon)
PIANO (sponsored by Yamaha)
SZYMANOWSKI Piano Works
Krystian Zimerman (Deutsche Grammophon)
SONG (sponsored by Anderson Financial)
FAURÉ Complete Songs
Cyrille Dubois; Tristan Raës (Aparté)
VOICE AND ENSEMBLE (sponsored by medici.tv)
'RIVALES'
Sandrine Piau; Véronique Gens; Le Concert de la Loge / Julien Chauvin (Alpha)
Audiences around the world will be able to view highlights and performances from the ceremony on medici.tv, Gramophone and Classic FM's websites from Sunday, 8 October at 7pm (BST), sponsored by IMG Artists.
My special thanks to my long-term contact Paul Geoghegan for the invitation.